Specialist Cloud Hosting for Sage Partners
Discreet hosting services for your Sage 200 customers
Built for Sage Partners, by Sage Partners
Since 2004 we've been deploying Sage solutions in the cloud and are trusted by Sage Partners throughout the UK to provide discreet hosting for their clients. In partnership with you, our cloud enables you to offer this valuable additional service as an extension to your existing portfolio.
Moving Sage 200 to the Microsoft Azure cloud ensures your customers get the best in reliability, Azure-backed security and availability to guarantee their business continuity.
Choosing the right cloud partner for your Sage 200 customers
Once your customers have decided to make the move to cloud, your next step is to select a cloud service provider. It's vital to assess the reliability and capability of the service provider that you plan to entrust with your customers' applications and data and who will look after your Sage client's specific needs, and you as their partner.
You can choose a cloud provider whose expertise lies primarily in cloud, or you can come to an experienced Microsoft Gold Partner who is a Sage expert. We specialise in migrating Sage 200 to a secure Microsoft Azure Cloud environment, and we understand your specific challenges.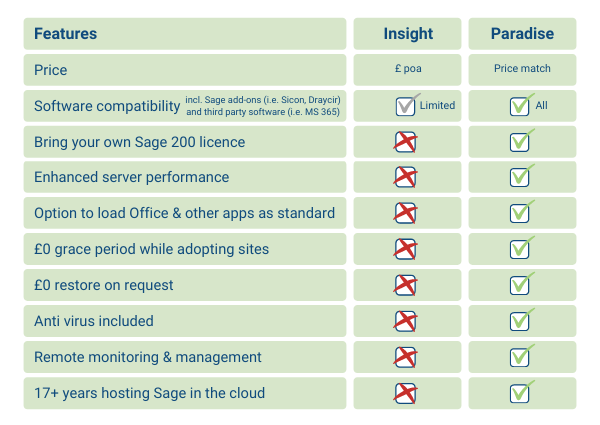 Delivering mature Sage 200 cloud solutions
Sage and Paradise have a long history of working with Microsoft. As an ISO27001 certified, Microsoft Gold Cloud Platform Partner (Azure), provisioning cloud with Paradise gives you the benefit of years of Sage Cloud technical know-how. This allows you to confidently deliver a great customer experience to your clients, helping them on their digital transformation journey. 
Migrate your Sage 200 customers to the cloud
Migrating Sage to the cloud enables you to offer a new service to customers and act as their digitization hero without any requirement for additional technical knowledge. It also provides an additional service/revenue stream opportunity for you. And rest assured, as your trusted business partner, we deal directly with you at all times and never contact your customers, unless you specifically tell us to. Ask us for a copy of our non-solicitation guarantee.
The changing business landscape has led many customers to re-evaluate the ways in which they manage their business. Increasingly, businesses are considering how they can enable and optimise remote working. When re-evaluating how they manage their businesses, customers are also considering how to transition from managing onsite servers for Sage 200, to having their solution managed in the cloud. Sage 200 customers now can benefit from leveraging Microsoft Azure cloud, ensuring they can benefit from anytime, anywhere working, supporting business continuity and avoiding business disruption (which can be caused by environmental disasters, security risks, power failure, lockdowns and more).
Helping your Sage 200 customers to connect more and grow more
To find out more about offering cloud hosting as an additional service and revenue stream, contact us on helpdesk@paradisecomputing.co.uk or 01604 655900.
Sage Cloud Hosting
Specialist Hosting for Sage Partners