Paradise Partner Cloud
Specialist Sage Cloud Hosting for Sage Partners
Trusted cloud
Safe secure Sage 200 cloud hosting. Choice of platforms, UK based data centres and technical support.
Fast flexible migration
Get the right platform solution to fit your exact clients' needs, up and running at lightening speed.
Seamless hybrid operation
Borderless workspaces, connecting your clients to their Sage data anytime, from anywhere on any device.
Be future-ready
Scalable, cost-effective solutions for Sage 200, including all Sage add-ons and any third party applications.
Built for Sage Partners, by Sage Partners
When we wanted the best migration path for hosting Sage 200 in the cloud, we couldn't find a straightforward, pain-free method for our clients. So we built the ideal solution.
Since 2004 we've been deploying Sage 200 in the cloud and are trusted by Sage Partners throughout the UK to provide discreet hosting for their clients. Paradise Partner Cloud (PPC) offers you more options to take your business – and that of your customers – to the next level.
Safe secure hosting with choice of platforms to suit every budget
UK based data centres and support, including Microsoft Azure cloud. Choice of platform ensures your Sage customers get the best in reliability, security and availability to meet their budget, while ensuring their business continuity. 
Easy familiar access
Clients simply use Sage 200 in the cloud as if it was installed on their own device. No staff training required.
Use your current Sage 200 licence
No need for your clients to start a new contract or change their existing Sage licence.
Future-proof compatibility
Host all their software, including Sage add-ons, i.e. Sicon, Draycir, Datalinx, Eureka,bespoke modules, plus industry specific software, third party applications and Microsoft 365.
Simple pricing
Easy per user pricing through our partner agreement. Also minimise your clients' ongoing IT expense burden with no upfront hardware costs, server maintenance or upgrades.
Scalable customised deployment
One size doesn't fit all, that's why we offer various configurations to suit your clients' individual business. Get the right cloud solution for their different needs.
Choosing the right cloud partner for your Sage 200 customers
You can find a hosting provider whose expertise lies solely in cloud, or you can come to an experienced Microsoft Gold Partner who is also a Sage expert.
We understand the complexities and challenges of Sage cloud migrations and do the hard work for you. Our hosting is not restricted to B-series virtual machines or one-size fits all portals. We have flexibility across a range of servers and platforms to suit your clients' exacting needs and budget.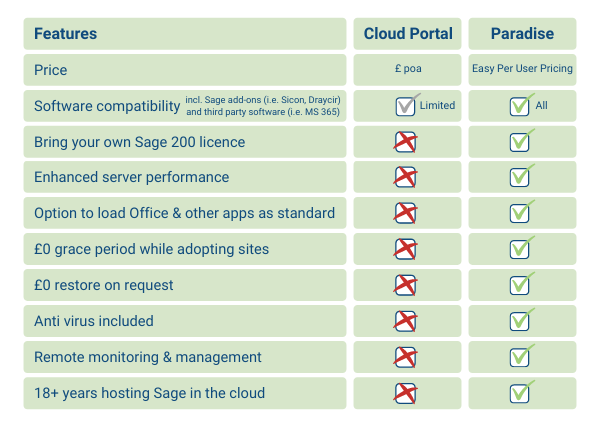 Delivering mature Sage 200 cloud solutions
As an ISO27001 certified, Microsoft Gold Cloud Platform Partner (Azure), provisioning cloud with Paradise gives you the benefit of years of Sage Cloud technical know-how. This allows you to confidently deliver a great customer experience to your clients, helping them on their digital transformation journey.
Migrate your Sage 200 customers to the cloud
Migrating Sage to the cloud enables you to offer a new service to customers and act as their digitization partner without any requirement for additional technical knowledge or accreditation. It also provides an additional service/revenue stream opportunity for you. And rest assured, we deal directly with you at all times and never contact your customers, unless you specifically tell us to.
Find out more about the Paradise Partner Cloud Program
Talk to us about our cloud support. Our partner program includes white label or custom branded marketing literature and SLA documentation to help you introduce cloud services to your Sage clients.
To find out more about offering cloud hosting as an additional service and revenue stream, email hosting@paradisecomputing.co.uk or call Dominic on 01604 655900 for an informal chat.
Paradise Partner Cloud
Specialist Hosting for Sage Partners